Story of Nature Heart Studio Equine Customs:
It all started in mid-2011, when I began experimenting with pastels at a Vermont model horse get-together. Talented equine artist Mindy Berg graciously let me try her pastels with encouragement and gentle guidance. My first project was a G1 Morgan mare in silver dapple. Almost immediately I became enthralled with this "new" medium and haven't looked back since! Named "
Love At First Sight
," that first horse has gone on to earn over 17 NAN cards, several Championship rosettes in competitive Region X open classes and even a NAN Top Ten Workmanship in 2013!
To my utter surprise and immense delight, two of my Breyer customs won
awards
at my model debut at the North American Nationals. At July 2012's NAN I only had 4 models proxied, and two came home with awards: a Reserve National Champion title for "
MMS Stargazer
" and Top Ten for Breed AND Top Ten in Workmanship for "
MMS Love's First Kiss
." Success was repeated in 2013, with 9 NAN Top Ten's rosettes!
The response to my first customs was so encouraging, in 2013 I opened up my books for a limited number of
commissions
for the very first time.
I feel absolutely blessed and honored that horses I create are enjoyed by others. Thank you to all my friends and hobby buddies for encouraging me!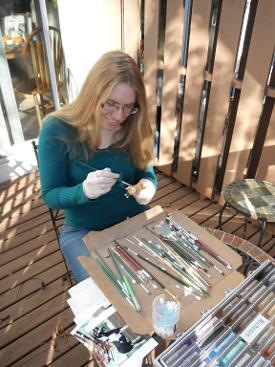 About the Artist:
I derive great pleasure from writing, drawing, painting and photography. No matter my medium, the beloved subjects that arise most often are horses, rabbits and the natural environment. You can view my canvas paintings and photography at:
www.natureheartstudio.com
In 2004 I graduated with Departmental Honors from the University of Vermont with a BA in English and minor in Animal Sciences.
I am the willing slave to two amazing house rabbits, Squirrel and Solstice. The joy they share with me is boundless.
Having suffered from Lyme disease since 2002, I strive to bring greater awareness to this challenging illness. I thank God for the gift of art, allowing me to have a purpose that hopefully touches others' hearts with beauty.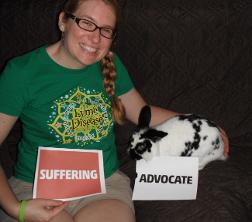 Copyright © 2014 - Karen J. Lloyd / Nature Heart Studio. All Rights Reserved.

All site content and photographs copyright Karen J. Lloyd unless otherwise noted. Any reproduction or use is illegal without express written consent.