Declared an "artist to watch" by Jennifer Buxton in her November 2014 blog article Braymere Custom Saddlery: TRXC Resin Workmanship, I am always striving to create art that evokes emotion in others.
"You have a very distinct painting style I haven't seen before. It's a nice change from the norm because yours are so sweet-faced! To me they always look like the one horse that changes somebody's life. I feel like every rider will always have that one horse that changed everything for them and that's what I see in your work." - CB
Commission Books:

4/21/14 Update: The limited number of guaranteed 2014 & 2015 commission slots for finishwork by Karen J. Lloyd / Nature Heart Studio are now full. I have decided to temporarily close my books until I catch up with current commission requests.

4/2015 Update: I will probably re-open my books in mid to late 2015. Living with Lyme there is always a great deal of unpredictability. Thank you so much to everyone who has expressed interest and for your patience! It really does make creating art worth it!
10/2017 Update: Going forward, commissions will be very limited and accepted only on a case by case basis.
Below are horses accepted for the 2017/2018 season:
BB - Candace Liddy Kit Fox foal - PAINTING STARTED 10/17
NAMHSA Donation Model - Mini Nahar - PREPPING STARTED
LK - Rose Annette
MB - portrait to be determined
LC - Stone chip pony

If interested in a 2018/2019 slot, please read below for further information on commission policies.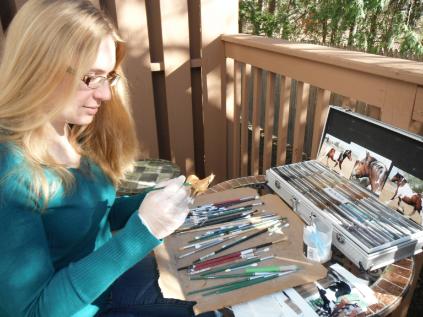 ABOVE: Karen painting an Eberl Mini Nugget commission for Sharon Mossy.
Copyright © 2018 - Karen J. Lloyd / Nature Heart Studio. All Rights Reserved.

All site content and photographs copyright Karen J. Lloyd unless otherwise noted. Any reproduction or use is illegal without express written consent.